Breathtaking Pallet Swing Projects
In a garden swings are the most enchanting thing, they attract the people of all ages either they are children, adults or senior citizens. A swing always attracts every person visiting the gardens. In a garden, a simple swing can be modified into a pallet swings resulting into a more beautiful yet diverse look. These swings can be molded into different shapes, and can be colored upon desire. The presence of pallet swings in your garden also symbolizes your creativity and love towards arts, here are a few of these kinds discussed below.
This sophisticated and classy pallet swing bed has a great look as it is a good option for the terrace. It is made in an incredibly artistic way that has bright cushion and simple cover. You can hang it on a roof with the help of a rope. You can keep it with some flowers or vase and have enjoyed the romantic and lovely weather with family.

Take your useless wood of pallet and build the comfortable pallet swing projects in which you can sit and get happiness moments with yourself. This is really helpful to you in summer season as you can have leisure time with this durable swing. You can make it simply with artistic ideas of pallet swing.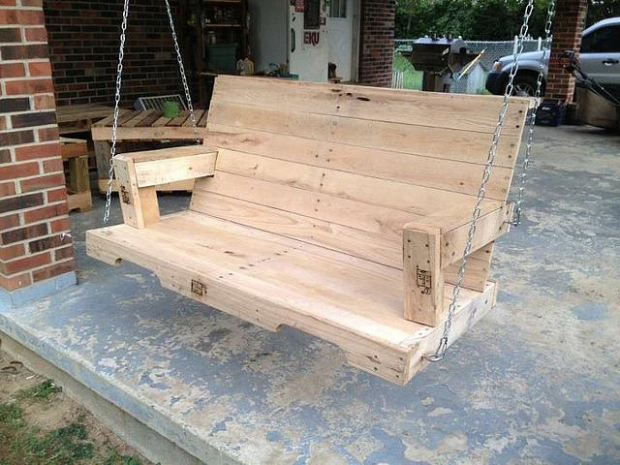 The pallet swing in the figure well shows those cheerful feelings that a person has, the swing is colored in a dark shade of pink is very much attractive to the children and ladies visiting the park, besides this, it can also turn your boredom into leisure. Just sit on the gadget and enjoy the greenery around you.
This is also an amazing Porch pallet swing idea. It is quite useful and seems a very reliable swing bed from the looks of it. Located outside the gate of the house, it can be used for sitting and reading the daily newspaper after having morning breakfast.

This pallet swing bench group is a wonderful idea. Since it is placed just outside or in lawn of the house it can be utilized when the weather is cool and enjoyable. Kids and adults both can enjoy on this swing and have a fun time.  It's look very pretty and full of fun and enjoyment.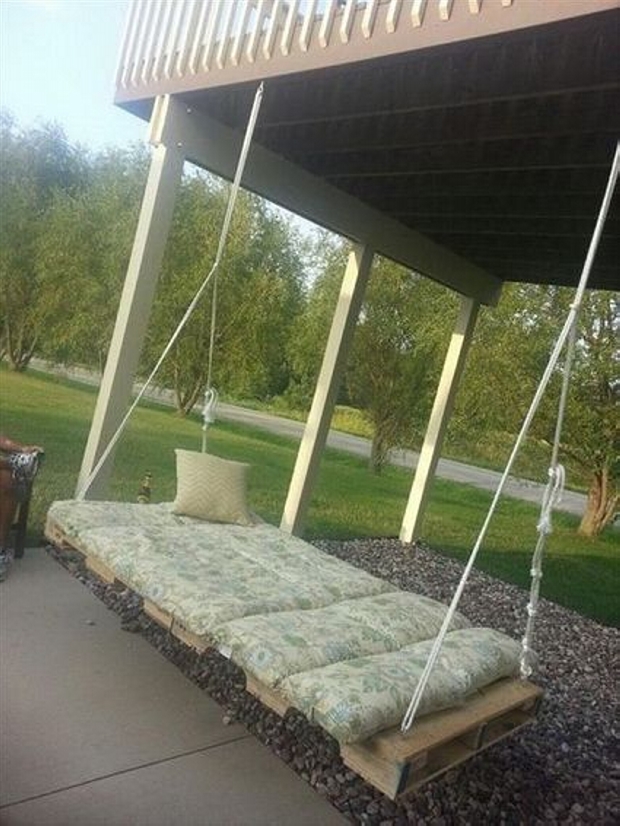 If you are tired of spending hour's with your baby and he is still crying then Pallet swing is here for your remedy. Sit with the baby on your lap and push the swing. These can be transformed into different shapes depending upon the shape and need. Yet the attraction and allure remain the same in every color

This pallet swing chair is one simple yet beautiful swing. The way it is hanging with the iron chains gives a very cool look. It can be utilized by kids for killing their time and having fun. Its awesomeness lies in its simplicity and its color.
This is a very pretty swing ideas made of pallets. These are placed in a garden and would certainly look quite mesmerizing to the eyes of the watcher. This can be regarded as the best place or venue for a meeting or a reunion with your friends and family members.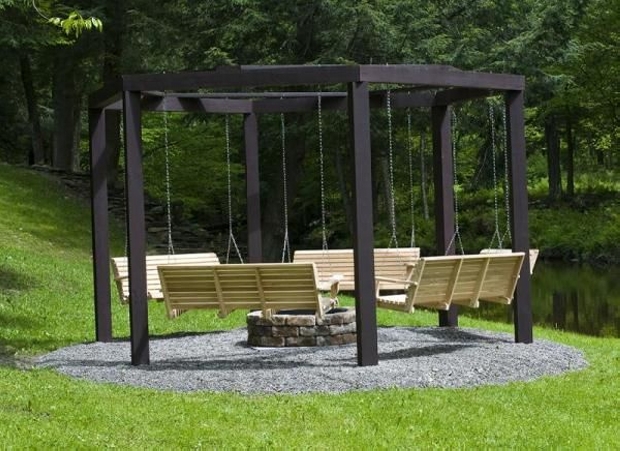 This is one quite enticing piece of art. A bed in a garden is a thing which everybody wouldn't mind having. This pallet made swing bed is a class apart from others. The location which is used for locating this bed is the key factor in increasing the value of this bed.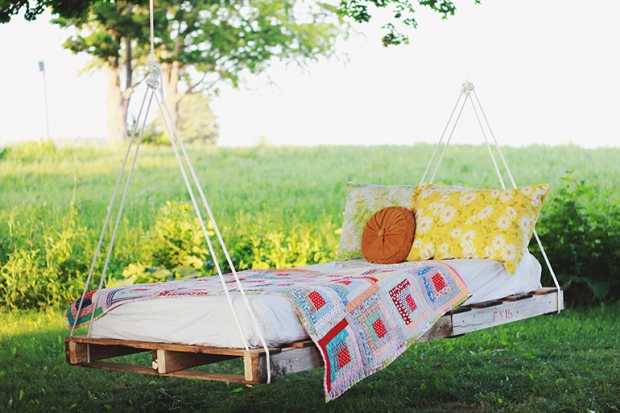 Pallet swing for porch is the product of creativity and art which can be estimated by this pallet swing for porch. It is located near the garden and is looking extremely beautiful. The red colored floral cover is giving an alluring look and quite attractive. You can have a great time at this pallet swing.
Pallet swing projects are of various kinds so this time we have a pallet swing for kids. Kids usually love swing chairs because they are different than normal seat and can swing forward and backward as well. The white colored swing chair for kids is must have.
The swing in this figure is an excellent idea for the family gathering. Members can sit together in their free time and besides enjoying the coffee in the cold they would feel the charm of specially created swings and nature's love. These can also be grouped.

This swing would look awesome in the autumn. The natural appearance of the log well matches with the situation. If you are planning for a change in appearance then the log's natural color can be transformed into beautiful and colorful paints of one's own choice.

This swing would look awesome in the autumn. The natural appearance of the log well matches with the situation. If you are planning for a change in appearance then the log's natural color can be transformed into beautiful and colorful paints of one's own choice.

There are several people prefer to tie swings in the garages or backyard then the yellow color for the pallet swing is the best option. The color can be changed owing to the desire and need. Yet, I would personally prefer the color due to the attraction in it. Yellow color has its own charm and looks away brighter than others.

The swing here can be termed as a luxury pallet swing. A swing like this can be tied in the garden or in the garage; the cushions over the swing are its real allure. These cushions besides giving an extemporary look also add the comfort in one's sitting.

Instead of having sofas, settings or chairs in your lounge you can enhance the beauty of your lounge with this Pallet lounge Swing. Hanging in front of windows, colored in the most vibrant and elegant color can be used to enhance the beauty of one's lounge.

The picture speaks for itself. Pallets are known for being turned into amazing home accessories and this pallet swing bed is one of them. Beds are the required furniture for a house this pallet wing bed can be used for sleeping and also for taking rest in evening and enjoy the natural beauty too.

This pallet swing bench is a product of an amazing pallet swing idea. This wooden swing bench is very cool and would be best utilized if placed in one's backyard. You can lay down on it and take a short nap after playing your favorite sport.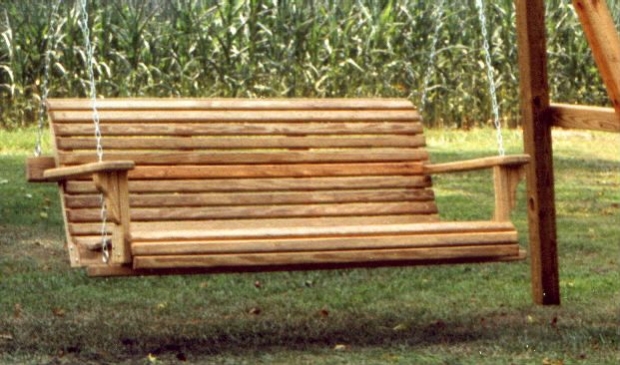 We give you the coolest and trendy pallet swing as it has ordinary look stand with the help of pallet and fastened with chain. This swing has luxurious cushions which are also increase the beauty of it. You can keep it in your lawn and add extra beauty to it.

Now recycled wood and create this one of the perfect pallet swing ideas for toddlers. You can just make it with a little bit creativity as it is safe for a child that has durable rope or wood. You just careful about the size and creation of it as it are proper for children because this swing can carry the preferred weight.
This cozy and stylish swing can be easily made by taking quality pallet wood. This swing can be hanging with a tree which gives exciting or enjoyable moments to you. This pallet swing fastened with durable chains and you can also decorate it with some pillows as it will add extra charm to it.

This recycled pallet swing is great inspiration for you in summer as you can simply making your pallet swing projects. You will spend your quality time with your friends as well as it is really inexpensive. You just needed have added colors with paint and with colorful cushions that look really enchanting which is proper for your porch.

The wooden pallet swing under pergola is located in the garden and is a nice swing .Its wooden color is the eye-catchy and most amazing thing about it. A couple can sit on it and have a good chit chat while enjoying an awesome weather in their garden.
As the name suggests the swing can also be utilized as a bed. This means that it can provide the comfort, look and a distinct way of expressing the one's architectural approach. The large span covered by the swing is its actual appeal. This swing is mostly loved by the newly married couple.

So we give above some elegant pallet swing ideas which are the great inspiration of this year. These all are easily suffered constantly in every season even in the attacks of sunlight and rain. These swings as well as have a modish look and all were fastened with trees or roof of your dwelling. Whatever collections you like these pallet swings continually modifiable. And you will place all in every area of the house as all have different sizes and designs.  By having one of the best pallet ideas you will create your house beautifully in an artistic manner. Therefore, use your own creative thoughts and make these wonderful and vintage pieces of swings.