Convert Dumped Pallets into Creative Coffee Tables
The pallet has come in different designs and will help you in decorating your home and offices in a good manner. You can keep many things in pallet coffee table that it comes in different shapes and designs. You can get different DIY coffee table in pallets which are charming as well as useful.  With many of functions these coffee tables have grace and unique look which make complement for your house. This all are DIY coffee table has a lot of space and gives you the best and useful furniture with its lovely look. You can also recycle pallet into coffee tables which is a unique idea for you.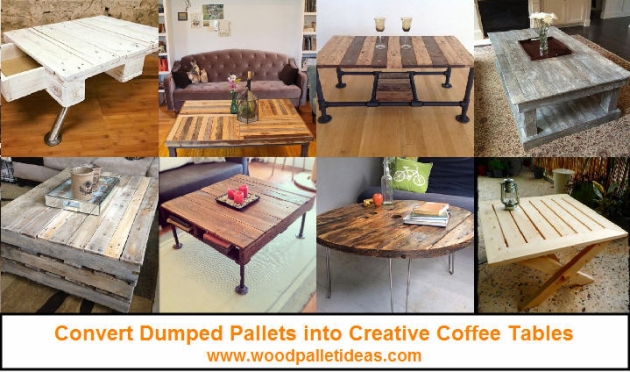 This multi-color reuse pallet coffee table is looking pretty due to its lively color and its flexible solid wheel gives a nice look to this coffee table. Although it's very simple but its bright color orange, red, purple, blue, green are looking very balanced with the black color of the pallet on both the sides.

It's a simple but pure wooden color pallet coffee table, which you can keep in the living room or in the garden.  This lovely coffee table has square shape pallet frame and one of its qualities that it is a folding table which you can keep wherever you want.
It's a round shape table with wooden pure light and dark shade of chocolate color.  There is some different size of the hole in one side of the table which gives it's a unique design. It has also three stands which is made of steel. This table is looking nice with the plain dark color of the sofa with the fresh green color of cushion.

This is a nice use of useless wooden pallet to convert them into a beautiful coffee table with all of its simplicity and grace. This rectangular shape of the coffee table is broad in width and these pretty candles also give a nice impression. There is also a single pallet fixed in a lower portion of both the sides to keep books on it.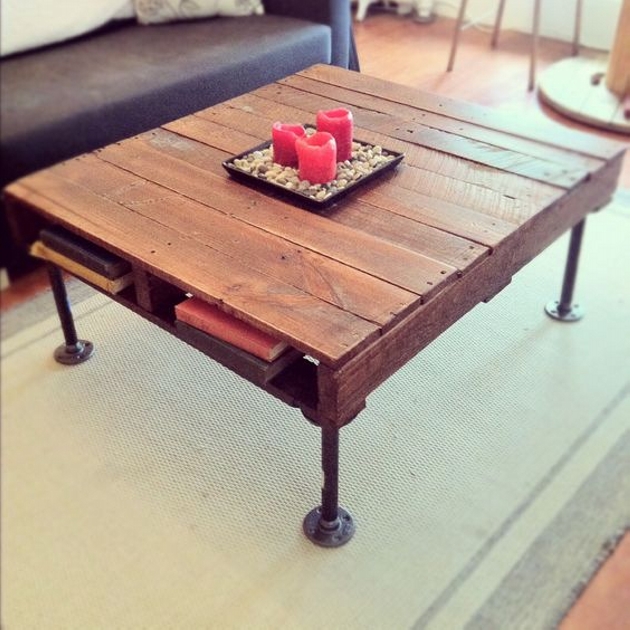 The simple and broad rectangular shape pallet coffee table is looking long-lasting and also the best use of your old wastage pallets. There is wheels fix under it; through these wheels you can move it easily in spite of its heavy weight. Its original wood color is also matching with the sofa set.

This dark color of the reuse broad pallet size coffee table is looking solid and simple and durable. There is another board of pallet in the lower portion which can be used for keeping magazines and other stuff. The dark color of sofa set is matching with this dark color wooden pallet table.

The fine looking reuse wooden pallet coffee table is rectangular in shape. The arrangement of the pallet is in V shape. It gives a nice impression with this plain sofa cover with printed cushion. Beside of serving of coffee it can also be used for placing decor items.

This pretty coffee table is in purple color give a bright and lively look to your living room. It is made by recycling pallet and its bright color give it a new look, there are two portions of the table and these are also divided into two parts. So in this way these four sections can be used to storage different stuff concern to your room.

This pretty and two color coffee table is the small size in length but its width is quiet enough. This recycles pallet coffee table has also a layer of wooden piece in underneath portion, which is also divided into two parts to keep things and decoration pieces. Beside this two wooden pallet couches are also looking fabulous with the bright color of covers of the mattress.

This is simply superb pallet coffee table for your lounge and has much space for your books, newspaper, magazines, and other paper items. You can also put decoration piece on it and make lovely look to your room. So get this flawless DIY coffee table and make the real feel of beauty for the lounge.

It is simple Pallet wooden coffee table but looking nice and attractive for it formation style. These pellets are arranged in such pattern which is called sloping line or it's also known as diagonal line shape. The color of the plate is from light to dark shade of wood.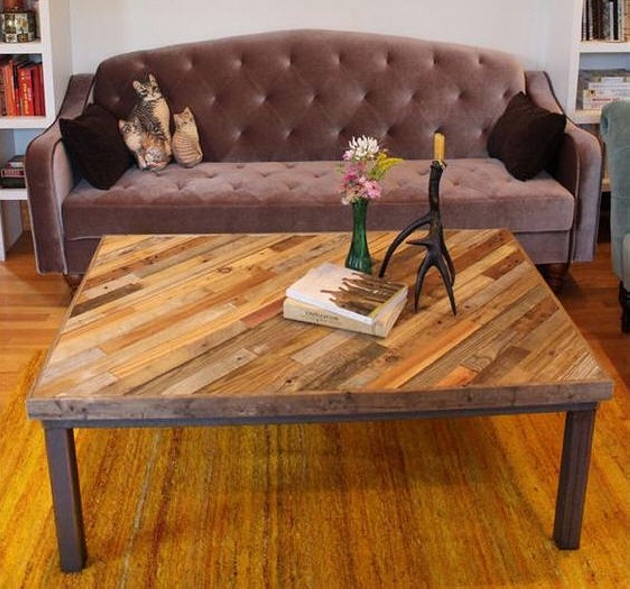 Reclaimed industrial pallet coffee table is based on a rectangular in shape. From one side it stay on an iron stand and from the other side, it is stand on a wheel. Its darker color gives a nice impression. You can place pretty décor items on it.

This reused white pallet coffee table is used for two purposes one is to serve coffee tea or any food items and besides this you can place some stuff in draws or keep safe your magazines or other things in this draws. In this way, you can use your old pallets in a new style.

This coffee table has a very nice design. It is four stands broad size coffee table with different shades of wood. It looks very simple and pretty. The main thing is the design to divide into four equal parts but they are in both horizontal and vertical style.

This coffee table is the combination of two colors of the wooden pallet which gives a nice look to it. It's rectangular in shape and has also small pieces of mini table board under it. On both corner sides, the pallet same color of two pallet is used. Nice decoration of glass places on it.

This rectangular shape coffee table is very attractive and its grayish color is very appealing. This coffee table is serving as a double function because it has two portions of the same size.  You can place all kind of stuff in lower portion like papers magazine, decoration pieces and other things which you like.

One of the loveliest and with glass pallet, the coffee table is also admiring the nature of your home. This is also one of the admiring coffee tables with the support of wheels as it likes too many people. It gives the beautiful look to your home and you get simply looking decoration with it.

You need to decorate your home with one of these best pallet coffee tables and have internal space for many things also. You can put this DIY pallet table in the middle of the living room or sitting room. It looks lovely with the internal space which is made with a net.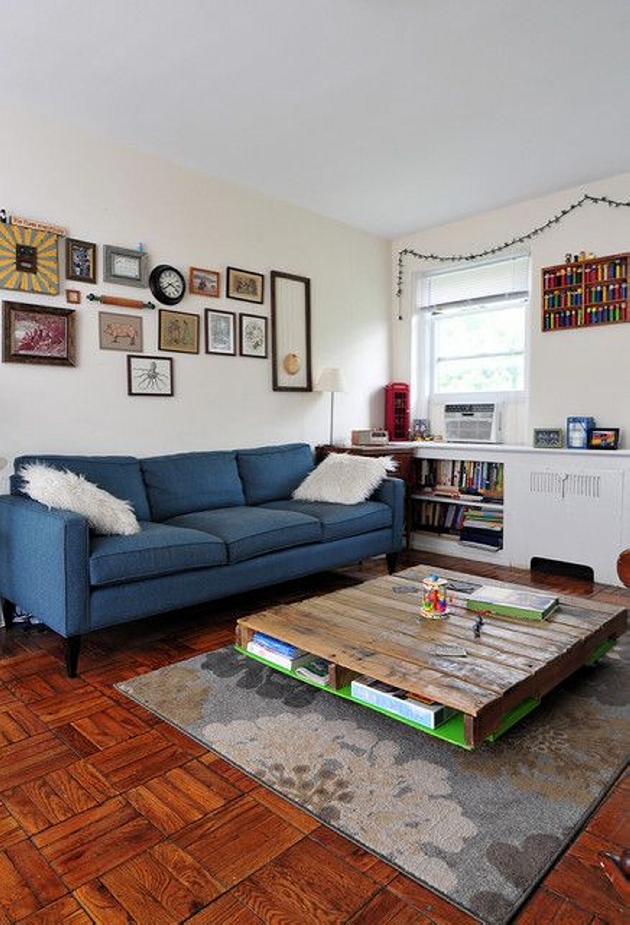 Wheel supported pallet coffee table is one of the demanding and unique pieces and save your money. You can give the lovely look to your living room and has a simple look. The designs look stunning with many spaces and traditional decorations look amazing. So now complement to your home with this coffee table.
This plain and classic pallet coffee table and have many things in it. Just good for lounge and one sided open part look nice and invite you or keeping things in it. Now you can plan for making this DIY pallet coffee table and give the simple look to your home.

Rectangular pallet coffee table has very appealing and attractive look for you as it is also good for the living room. Now create your own pallet table with this simple and easy item. You can keep in its many things as magazines, newspaper, and decoration or unique pieces. You thinking will keep your money safe.

This pallet coffee table is a great idea for keeping it in a living room and we know that you are the big fan of this pallet table. This simple and awesome DIY coffee table is the best furniture would you always admire and give a lovely look to your home. The rectangular shape table has great appeal for your home.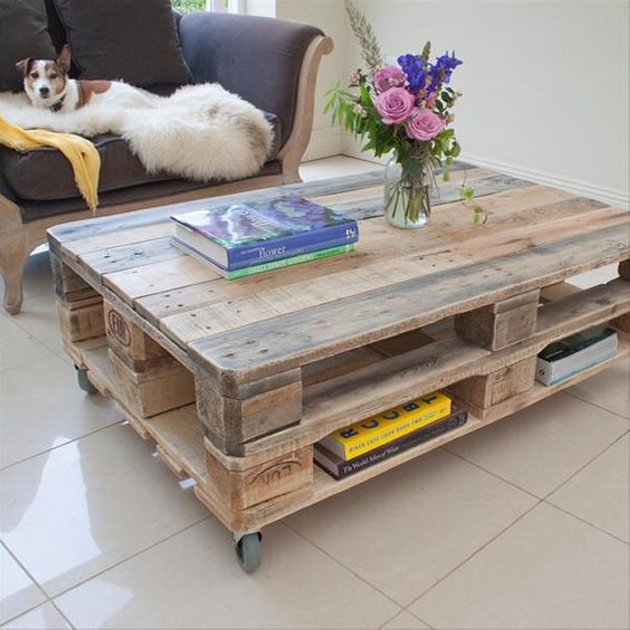 This also one of the simple and lovely pallet coffee tables which give you space for many items and have a pleasant look. You just need to enhance the beauty of your living room with one of the best coffee tables. This is the real and creative art of DIY pallet coffee table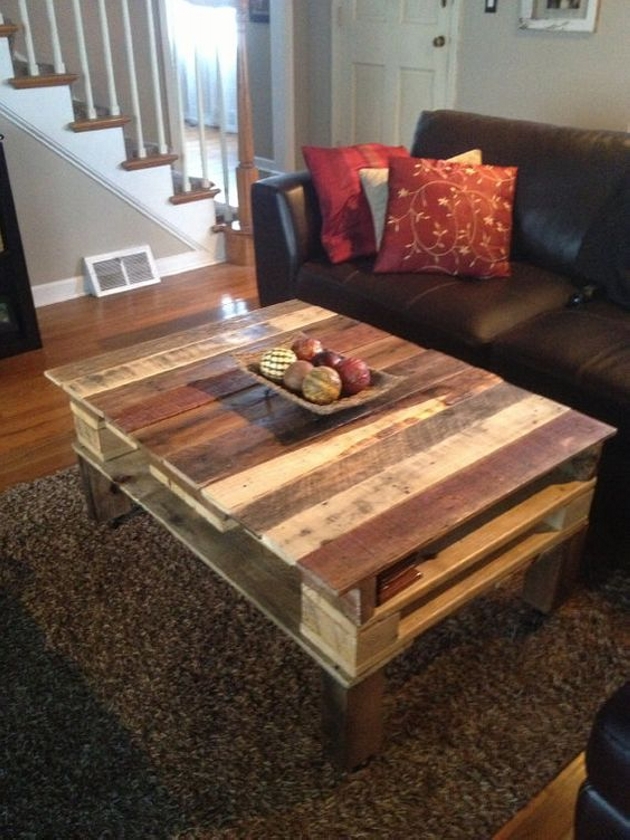 Now you must trim down the expensive coffee table with this DIY coffee table. This multipurpose coffee table is ideal for you as it has a lot of space in it. With the excellent craft and design, we suggest this is one of the most excellent coffee tables which you need for your sitting room.

This one of the huge coffee tables gives an eye-catching and remarkable look to your living room. The size of this table is good for a coffee table and really inexpensive table give the lovely look to the home. The simple and traditional pallet coffee table is in huge demand as of its simplicity.

This pallet coffee table is another creative and interesting idea for sitting or drawing room. It gives the classic look to your room and you can keep many things in it like newspaper magazines or other small items. So now get something new and original which is an important part of the decoration of home.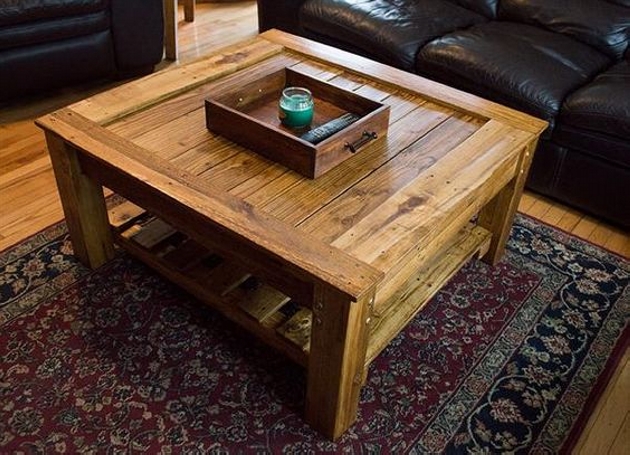 This DIY coffee table has simple and really perfect for keeping books, magazines, and other items. You can keep it any place of homes like a living room or sitting room. This is actually the simple and has versatile options in it. So now try to make this one of the attractive coffee tables by yourself.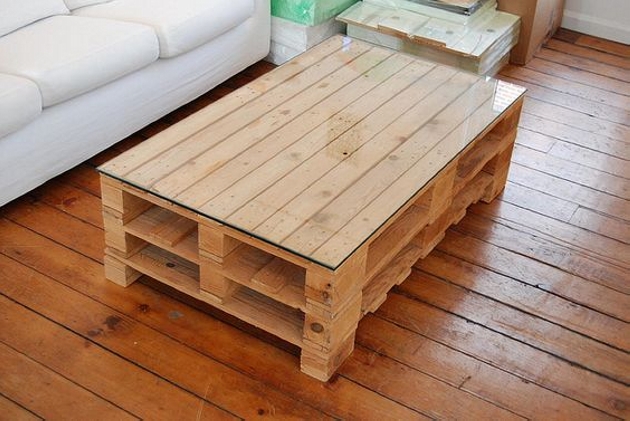 This creative pallet coffee table is one of the vintage inspired designs that have wheels. This is perfect for your lounge and gives rustic style to the living room. It is also awesome for placing different items on it. So change your plain table with this and make it lovelier and awesome