Pallet Bookcases & Bookshelves Ideas
The DIY pallet bookshelf is one of the most creative and remains always in demands of teenagers. You can place in it many textbooks, magazines, novels, and newspapers which have their value or readers. Pallet bookcases are one of the main requirements of these things and you can properly place for your books which look neat. You will come to know about the bookshelf designs then you can solve many problems of your reading stuff. You can easily fix these pallet bookcases on walls of the study room, bedroom or even in the living room. To give them beautiful and neat look you make different shelves and use different colors for it.
Pallet Wall hanging bookshelves not only looking beautiful and attractive but also compact in size and can be easily fitted in any place or to any wall. No doubt, this DIY pallet bookcase actually gives a fine-looking appearance of pallet wood crafting and also not take extra place at your home.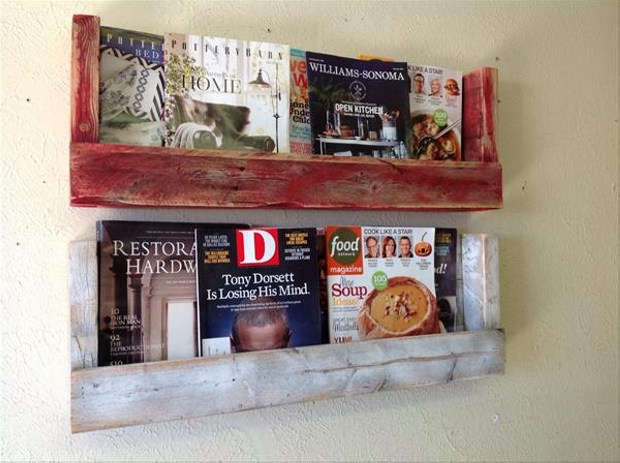 Pallet wall hanging bookcase can be used to keep your book safe as well as if there is not any extra place at your home then in that condition this sort of wall hanging shelves is the best substitute for it. This squared shape of pallet bookshelf has 3 portions that have enough to keep books.
This DIY pallet bookshelf is the perfect choice for your kid's books and toys. You can create it in original ways as it attracts to your children and keep it organized. Your child feels happy with his small library in which has many drawing or colorful books.
This type of pallet bookcases is ideal for shops where customers come and pick their favorite book. This bookshelf keeps your shop organized and managed and customers get easily their books. On these types of pallet bookcases, you can put magazines, newspaper or books.
Here are original and one of the multipurpose shelves which is really useful for keeping your books, magazine, and other reading stuff. It has many parts in which you can keep your books and also make partition of different topics. You can maintain this one of the wonderful pallet bookcases in living room.
This amazing and fine looking wooden pallet bookcase can be occupied moreover with books or you can also use it with your prefer items of comforts. It has divided into five different compartments so you have a chance to keeps books of different category in each part of that pallet bookcase.
The pallet bookcases  are one of the most significant requirement for everyone and in case you are a youngster or a study geek then you always have books that need proper attention so that your room didn't look so messy. Pallet bookshelf projects are easy to build and cover all your textbooks and magazines.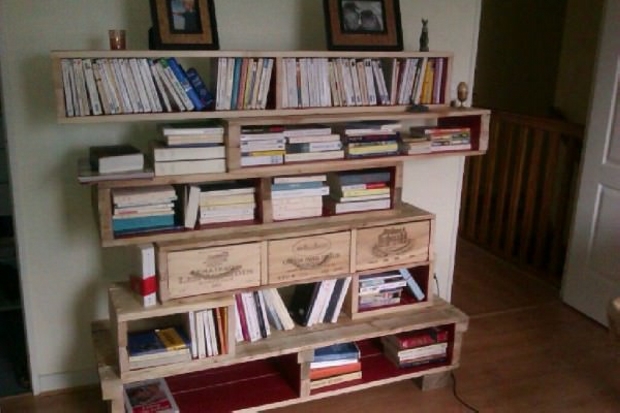 Bookshelves are the one thing that makes a room complete especially when you are a student. If you have a stock of free pallets and you want to use it wisely. The idea of adding dangling bookshelves to a room is simply amazing and little effort a perfect pallet bookshelf design can be made.