Creative Uses of Wooden Pallets
Wood is such a material that is undoubtedly the most suitable material for upcycling. It's really one more demo of upcycling, you can observe that wooden pallet is always work in best style. In this article we discuss. From the use of pallet we cannot give only a different look of our house on the other hand also make our green landscapes much lovelier by using quite a few garden art concepts with the use of pallets. From DIY method, we can make pallet sofa, rack, wall hanging, planter, coffee table and much more things e, which will absolutely give your living room a graceful and fresh look.
Creativity never needs to show itself as its own beauty and creativity captures all of its viewers, same as this multi-use pallet coffee table. It has a folding table which can be divided into two parts according to need.  Both of its sides have four shelves in which you can keep different things.  When it divided into two parts then its center part has also the capacity to keep things like a magazine or other stuff.

It's really a marvelous and fantasy look pallet lighted bed, which give a strange and lovely sight to its viewers. It's a nice concept to use light between the structures of the bed which is made by pallet and pallet is also used in the back portion of the bed. Nice wall hanging painting   and table lamp give a complete look of the bedroom.

It's an unusual thing that a dustbin has kept in a case which is made by the pallet and it has an opening door through which one's can pull out dustbin easily. Pallet garden waste bin has also an opening door on the upper side of the case which has made of glass with a wood border. A nice bench is also placed here made of the pallet. You can keep it in your backyards well as front garden your house.

This pallet fruit and vegetable storage rack has divided into three portions which are in square shape and also has wheels to move wherever you want.  It is a pretty and eye- catching rack. You can keep vegetables and fruits of your daily routine in it. This is compact pallet fruit and vegetables storage rack, which can be placed easily in the kitchen.

Pretty and attractive flooring of  the room  always grab the attention of others, this nice rectangular shape flooring style is looking decent as wells give a variety of pallet color  in room such slight and dark shade of wooden pallet. There is no need for rugs or carpeting in this room.

Absolutely it's a wonderful nice pallet coffee table with storage. It's a wide table having white color and four different compartments or like shelves on both side of this coffee table, where you can keep different types of stuff in these baskets. It upper surface is so broad that you can place decoration items alongside your coffee set.

Pallet chair with storage book option is such an amazing thing by which we can relax and enjoying our reading hobby. Our books or newspaper can keep saving and whenever we are in the mood of relaxation our favorite books can be easily available in our range. This chair has two compartments on left and right side and also below the seat.

By the use of pallet to make a pallet planter is a very awesome idea as its look unique and simple.  It's in square shape and there is many color and type of flower in it, which give a fabulous look to your Pallet planter. There is also a wooden pallet floor under this pallet planter

Storage of wood has always been a problem. So to minimize this issue, we can use a pallet. Cut the pallet of your desired size and put them together to create a space for the storage of barn wood. Make sure that its length should be 3 times more than its width. In this way the more woods can be stored in it.

The pallet can be used by making it a stand for different gardening tools. For recycling pallet joins them with the help of nails in order to make it a stand. Different tools like Garden fork, Pitchfork, Lawn sweeper, digging stick can be placed in it.

The Pallet wood gives us the advantage of making it a sidebar. We can decorate it by placing indoor plants on it. It may also serve as a shelf. You can place different things on it. Place any kind of decoration piece above it; it would give a charming look to your home.

The Pallet can be reused in our kitchen. You can make a pallet spice-rack and hang it on your kitchen wall. Now you can place any kind of spices such as black pepper, salt, yeast, Red chili etc. on it. Kitchen utensils can be hanged at the bottom of this pallet spice-rack.

We love to keep our home neat and eye catching. A TV stand with a fireplace can be a two in one treat did with the pallet. You may decorate it by placing some indoor plants at its sides. To add beauty to your sitting area you may add some decorative pieces with your TV.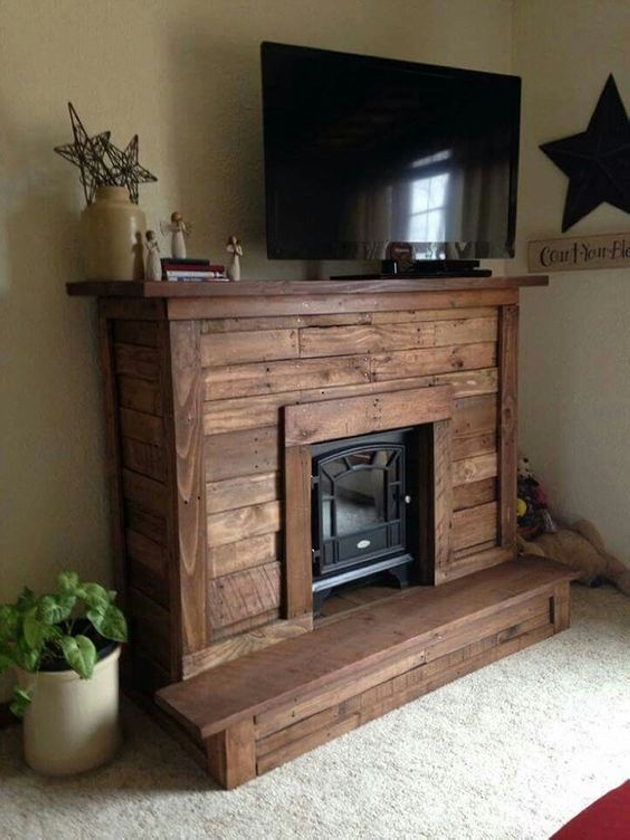 Beside the other uses of the pallet, it can serve as a very beautiful roof decorator. You can make it of any desirable length and width. Hang the pallet with your roof top. Now using some wires, to tie the bulbs of different shapes and sizes with it. Try to put them in a sequence to make the look complete.

This sort of pallet shoes and coat hanger stand is really very useful and casual item of almost every house. This stand has five hooks for hanging coat as well as handbags, umbrellas, and some other stuff. The pallet shoes stand has five racks, which has definitely spacious and you can keep a number of shoes.

White has always grace in it whether its furniture or some thong else. This pallet tables and sitting bench looks amazing. The printed cushions and different vase give a nice appearance. A decoration piece is placed in the center of the table look cool. In the lawn, these white pallet outdoor furniture's presences make a completely relaxing environment.

Recycled pallet planter is the best idea for your plants as well as your old pallets can be used in this way. This white pallet planter gives fantastic and nice looks to your garden. This pallet planter divided is in three different sizes of portions so in this way you can grow a variety of plants which looks wonderful.

Patio furniture set is such a lovely concept to use new or recycle your pallets for sitting in lawn terrace or in the backyard. There is a combination of three sofa set and a table, two sofa seats are the same size and one is a little bit small. This sofa set is using for multipurpose like inner and outer both the places.