Pallet Room Divider Ideas
In these days, Pallet projects are on trend and you can build anything with it for indoor or outdoor for your house. Many people want to know this pallet room divider project and they know that very well this is the best plan for saving money. The main role of pallet room divider is to divide a room into two or more than three sections. Pallet room dividers come in two types one is sliding divider that attached with the floor on wheels and the second is fixed with the floor. Pallet room divider usually uses in offices, universities and houses which generate the new idea of decoration.
The main role of this pallet is used to decorate your living room and giving it a new look. On this type of pallet, you can separate the half part of living room and you can also use it as LCD stands. It also gives a lot of parts and provides you a clean look.

The pallet room divider with a TV setup is the best idea ever. It can charm your room and satisfy your needs. A television is the most common electronic product present in houses so having a pallet room divider with a TV console would be a great idea.

With the help of pallets, you can create a rustic looking room divider. This divider can be used for different purposes like you can use it to hang photos or anything you like. The process of creating is very amazing as its work like a proper wall and shows a look of the fire place.

This will be the best part of your offices or study rooms as you can divide it in separate cabins. By making this pallet you may have created a beauty of your study room or office and this is the great alternative of walls. This will give you the calm and peaceful place for study.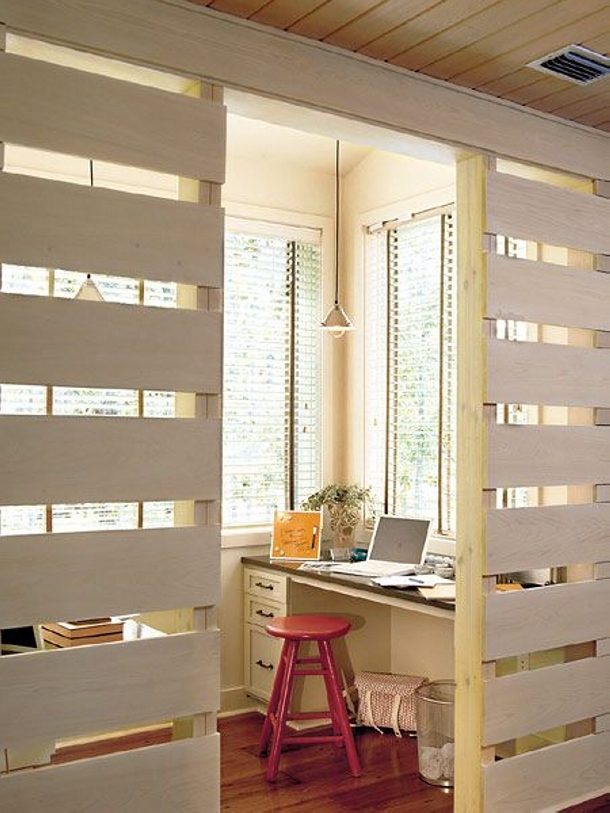 From storing items to coffee tables or window boxes, pallets hold a lot of possibilities for you to construct at the cheapest cost ever. You can turn recycled pallets into a room divider or anything you like. This divider not only gives a look of the wall but also make a passage of corridor.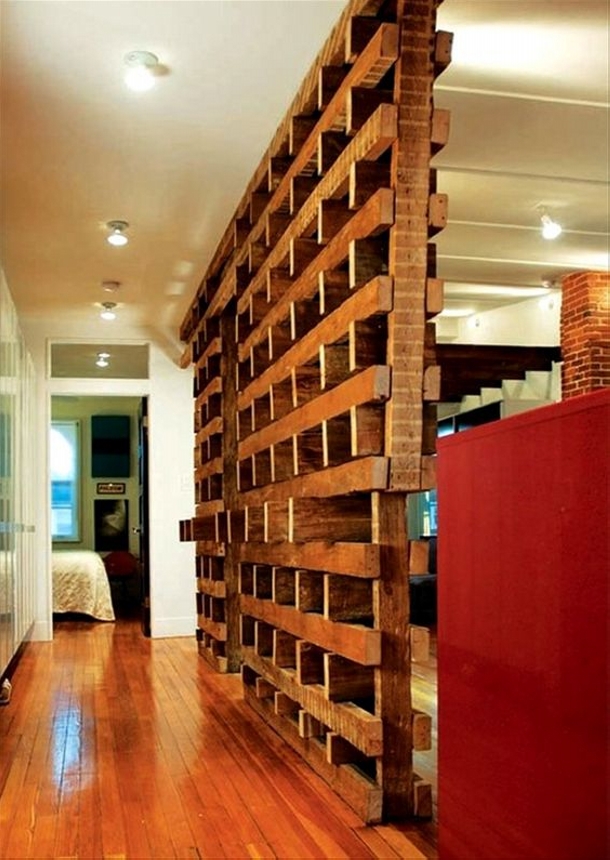 Pallet corner sofa idea is specifically for those who don't have them. Usually, the corner sofas would look extremely awesome in your bedroom or living room. By this pallet divider frame, you can give a remarkable look and can create a separate portion with the other part of your house and these candles stand and accessories also give a fabulous look.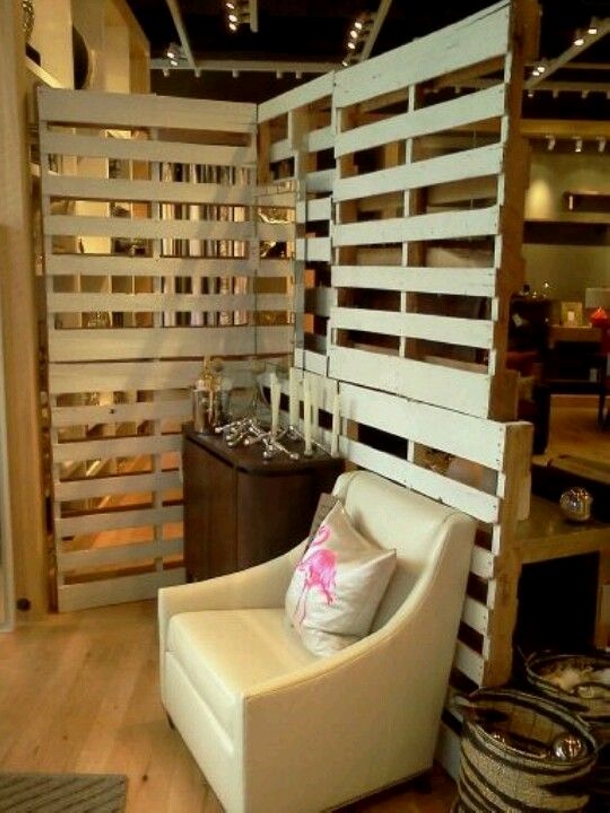 You can create a wooden pallet room divider. The process of its making is pretty simple. It can be used in offices or any working institution because it can separate one portion to other and in one hall and you can manage different section for your workers.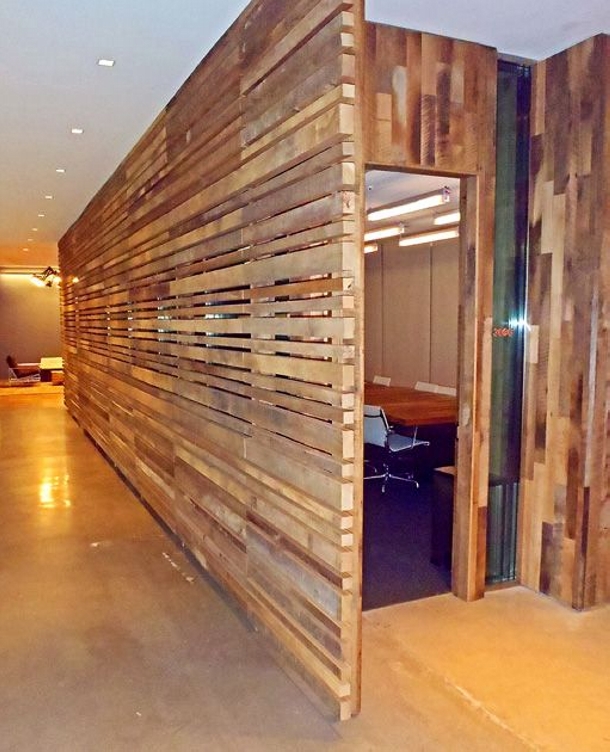 With pallets, you can create amazing things for your rooms. One of the possibilities is to create a decoration wall. Through pallets, you can construct and build a decoration wall where you can hang your photos or anything you like. This wall can be used for hanging photo frames.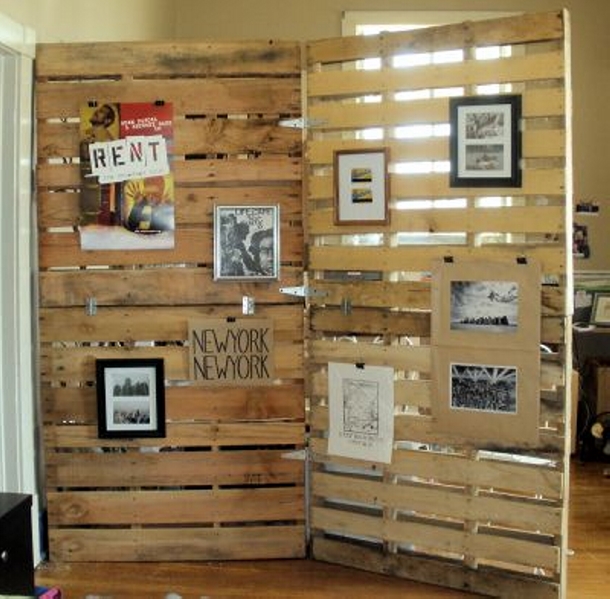 You can a room dividing wall with pallets. Recycled pallets and collect a good amount so that you can turn your imagination into reality easily. Make a wall kind of stand. I'm referring to it as a stand because it would not attach or fix with a wall rather it would be utilized like a wall itself. After creating it hang photos frames containing images of your choice, drawings or whatever you like.

The pallet bookshelf is one of the most important aspects of every room or every person who loves to read and who is an avid reader. Such person can create a pallet bookshelf himself along the wall of any room be it the living room, bedroom or study room.

This stand pallet is one of the wonderful and lovely room dividers. This is incredible wheel pallet which needs not a big investment. This is perfect to dividing your drawing room and gets the real and simple look with it. This is simple wheel pallet which connects two rooms each other.

This Pallet wood is the creative and simple idea for dividing your room or lounge into two sections. You can see it is simple and easily adjustable in any place of your room. On This type of pallet, you can hang some decoration things and it simply modifies the beauty of your room

The broad and pretty bedroom divider pallet gives the lovely look to your room. This amazing pallet creates the imaginative and romantic look for your bedroom as it has side lamps for giving it light. You can also place different items for decoration on it which is related to a lovely bedroom.

The one best use of this pallet is to divide a hall of a shop or any marketplace to make a separate portion.  Through this way, you can keep many things on display under one roof. On this pallet wall, you can place or hang jewelry on a hook or also place on some rack of pallets. You can also hang shirts on the rod attach with the pallet wall.

This lovely and different pallet is ideal for office use as it can divide into two rooms. This pallet wood amazingly gives us with most creative and elite ideas for office as it is need of any professions. With the help of this pallet, we can save our money and keep a budget in control.

This is one of very interesting pallet projects. In case, you have a big hall in your house and you want to make some portion by division then this pallet wall creates a fine and decent look. You can hang wall hangings and pics on it. It gives a nice impression of your living room.

Pallets can be used as good space dividers in your home. If you own a company and want to manage the office setup in your own house then pallet space divider would be the best idea ever. It will help you with dividing the space you have in your room.

Uncycled pallets are one of the many things which you can use as a room accessory. You can hang photos against it. It will give a charm to your room and further small accessories like Photo-frames and stuff. You can also use this for hanging different things.