Brilliant Ideas for Pallet Potting Tables
It is rightly said that one man's waste is another man's treasure. The present era is the one in which everything from a thread to whole furniture and electronics is recycled. So why leave the pallets out? The Internet these days is beaming with DIY tips and tricks and one such latest and the highly followed trend is pallet potting. As soon as you've made the table, you can attach re-claimed or economical hardware beside the countertop edge to grip gardening gears. You can also screw casters to the support undersides to make the worktable more movable. You can make a wooden box of different small shelves in which you can keep safe different kinds of seeds. This box can be placed or hanged on this pallet potting table
Gardening tools and supplies usually look like mess lying around the beautiful garden. But these oddly shaped utensils can be turned into a piece of art by the right placement on the right shelves. Wooden pallets can be deconstructed into single pieces and then nailed together to form pallet potting stations and wall benches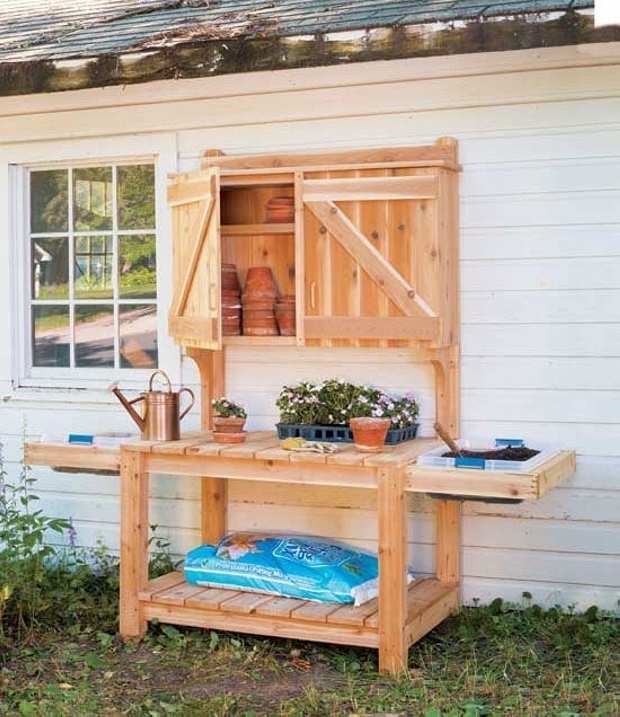 Thinking of discarding old flower pots? Well think again, actually with the right setting, even the things pinching the eyes can be turned into a scenery. Pallet potting tables can be loaded with such old pots and turned into a table garden beside the kitchen window for growing coriander and other herbs.

If all else fails, you can rely on the healing power of nature. Wooden Pallet potting table covered with flower and plant pots is all that it takes to change the look of an old rusting corner of the house. So next time you think of throwing a pallet away, well! Think again!!!

If you have the skills of a craftsman then surely you would have tried getting your hands on pallets to remake them into the beauties that they can be. Using individual wooden bars instead of the whole pallet makes room for more creativity. It also helps create a more compact and secure pallet pot table and stand.

If you feel that raw wood color might not match the ambiance and the rest of the furniture, then trying out different shades of brown is never a bad idea. However, it involves some careful brush strokes to keep the authentic rustic antique look. Such Pallet stations and tables can replace the old crockery showcases.

Pallet Potting tables are not just a new earthy addition to the decor trends. In fact, they can prove to be highly useful especially when combined with the magic of plumbing. Old bath tubs from the toddler years or old sinks can be combined with a pallet frame to create fun and eye catchy water source for outdoors. Besides, who doesn't love to recycle!

If you have the desire to create art and prove your aesthetics then inspiration might just be lying around. Wooden pallets make it easy to craft quirky furniture's like pallet pot tables, pallet pot benches, and stations because they already have compartments which can be made into drawers and sections. They not only make easy organizers for study rooms and bedrooms but also make low cost outdoor decorations.

Small flower pots are a sure shot way of making the house look dreamy and comforting. However, more than often one finds difficulty in selecting a suitable place for such pots. Pallet pot stands and stations have made this an easy job. The wooden texture of pallets nicely compliments the colors of flowers.

This is a lovely and attractive Pallet potting table. It's a multi-layered table which keeps many things at a time in its three layers pallet shelves of different sizes.  It's also a portable pallet potting table you can place at any corner of the house or in the garden also. It's lively red color gives a fresh look.