Pallet Playhouse Projects for Kids
Pallets are very resourceful and come in handy many times; you just need to think of a right use of it. You can use it to make different storing items and one another use of pallet is to make Pallet playhouse projects for kids. As we know kids are very innocent and full of life, usually, they want colorful, attractive things and like to play in such environment which is full of fun and amusement. No doubt Pallet Playhouse is the best option for you to bring a natural smile on the face of your Kid. The Pallet Playhouse is simple and inexpensive in making and moreover, you can recycle your extra items of your house in it.
Pallet wood can be easily used to make small wooden houses. The pallet used will be cheap and easily available. You can use it to make small tree houses like a doll house or camp house with hut shape or you can also use it as a dog house. It will be spacious and has a distinguish look.

The best use of pallet is to build a small but spacious house or hut for your children to play. As it is compact so it will consume less space and will be done with very little expenditure.  You can paint it and put plants all around so you child can play there.

A nice and decent one or two story room house can be built by pallet woods. If you use fancy pallet tiles or pieces, it will genuinely give a look of the real wood cabin. Use sheets to cover the roof like tent shape. Make a fancy door and windows to complete it.

Children always need new things and places to play, so why not build them in few different shapes. Pallet wood can be easily used to make wooden hut like old fashion Red Indian huts keeping one side open so that children could play easily. Put the pallets with a little gap to make it airy.

Pallets are the easiest available stuff that can be used to build cheap but creative things. You can surely build a big enough fancy pirate ship playhouse that can be used as a podium to stand or play. Make the sails and hang the pirate flag to give a perfect look.

Kids love to play in tree house or slides. So if you want to make a stand or slide for your kids than it will be a wonderful gesture and surely can be built with a little effort and little expenditure. Make the stairs climb up and put window or entrance with the slides.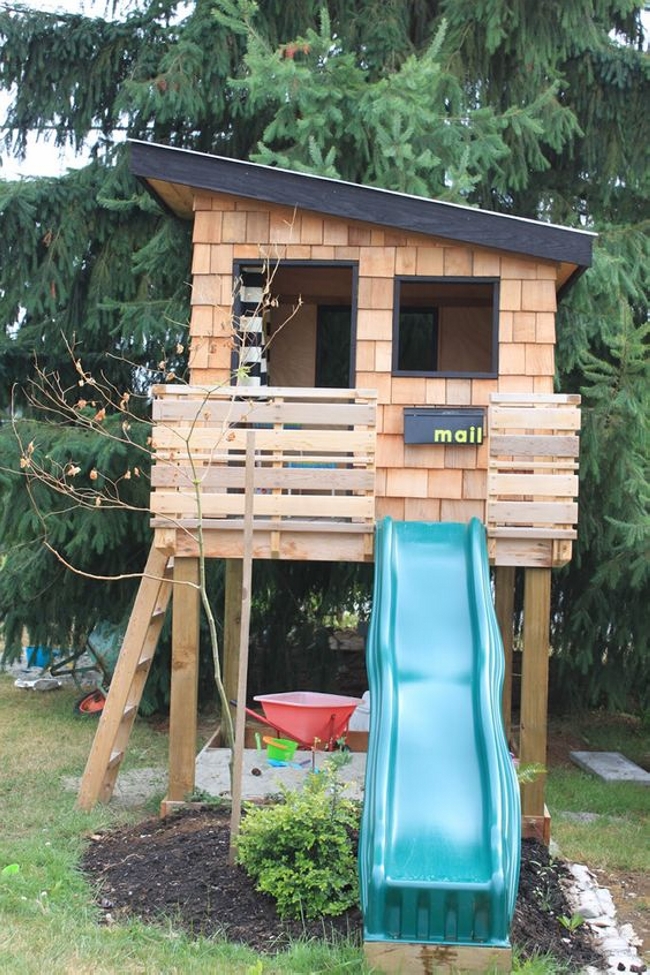 Girls love to play in a doll house as their childhood surrounds these kinds of memories. Make a doll house of 6 by 4 feet and paint it with purple for girlish touch. Put some kids table chairs and shelves with stuff toys to make the look complete.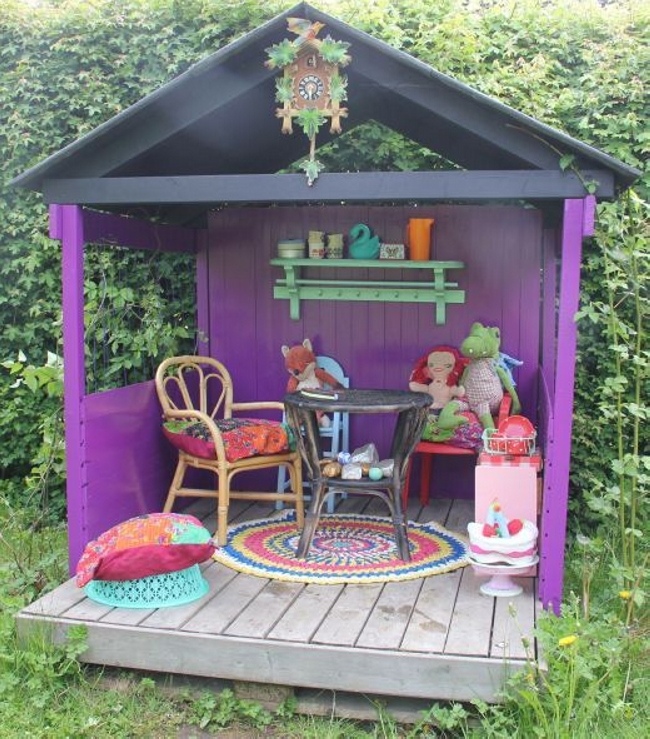 Building a wooden pallet cabin or playhouse beside your garden to hang the tools there or sit peacefully is not that difficult. Try not to make it too big but make it spacious. You can put a hut roof and make a little boundary around. You can also put your kid's cycle there.

Another wonderful use of wooden pallet is for kids to make a small house like a plane, which is standing on four wheel look like an original plane.  On the top side,  some pallet used as a wing of the plane , alongside its there is tiny windows and a door. A seat of the pallet is also fixed in inner portion for kids. It's so simple and unique.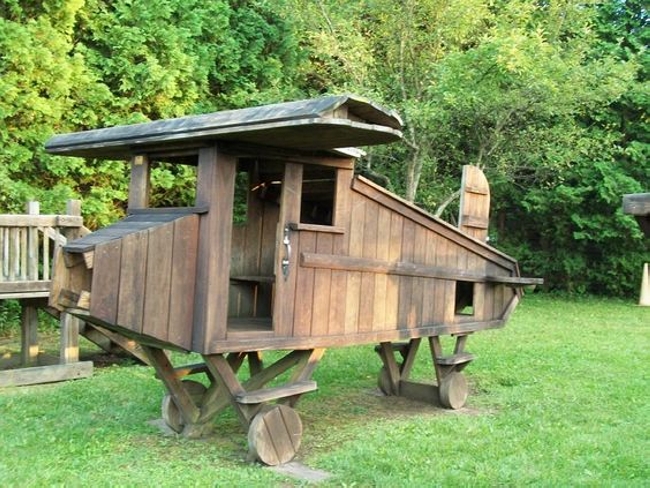 Wow, what a pretty combination of original and fantasy look of this kid's playhouse. It's spacious  and has windows with hanging pot stand from all four sides of this house, so definitely it's airy and full of light, hence, kids can also enjoy in summer. The small and attractive front terrace of this playhouse looks fabulous.

The pallet can be utilized in different forms for the playhouse. It didn't matter whether it is a single story or double story, you just have to make a frame support it and puts ladder so that children can reach easily. Make windows keep it air and look like castle or fort.

Children like to play in the garden or open area, so why not using these pallet woods to make a shed area or playhouse that has a proper shed where children can play or rest in shadow. You can put easy and comfy little chairs and also install rolling sheds over.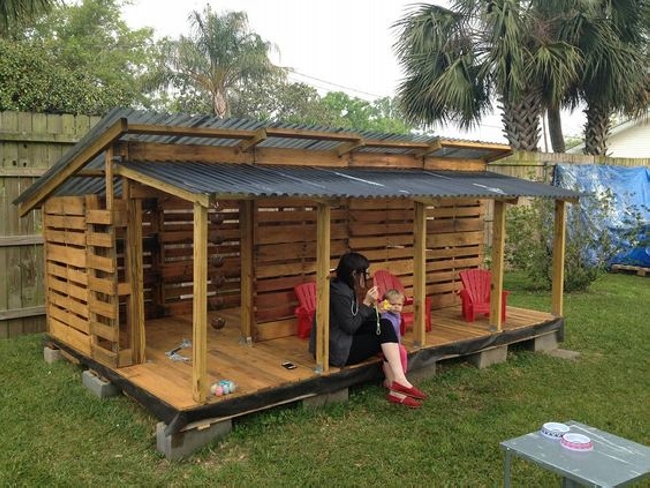 Pallet wood gives us the advantage to make a cheap playhouse for children. You can make a playhouse wide enough for playing inside. You can put windows and doors and make bars outside as a boundary. Build small windows on both side and paint it white for prominence and put a V roof.

A simple room or playhouse can be made with little effort and use of the pallet. Simply use the recycle pallet woods to make a hut shape room which can be used by children for night-overs. Put some nice sheets and pillows and hung a light or lamp to make it a room.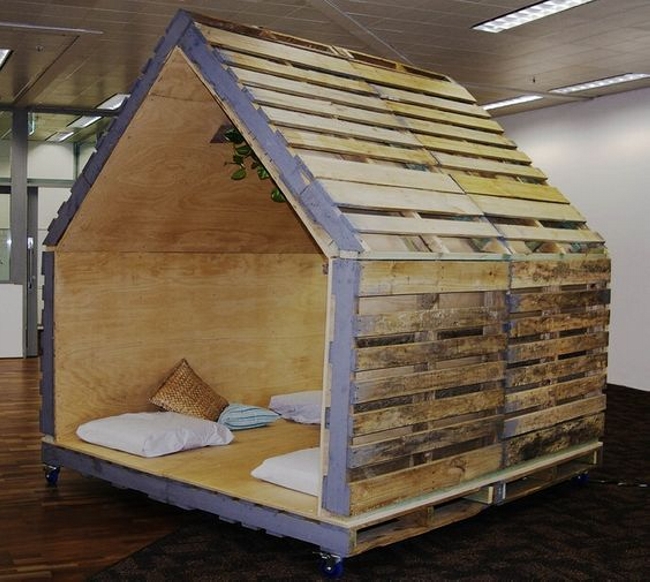 When you are building a playhouse for your child you need to be very specific if it's for a girl. Make a staircase design or roof, put a window for freshness. Use pink color and hung lamps or flowers to give it a girlish touch. Hang bird cage and put a mat in front of it.

If you have two girls then make a two level pallet wood house with open roof or make a lid cover it. Decorate it with cushions, foam and toys decently and put a pink mat in front of the playhouse. Put a ladder to make it reachable.

Making a big playhouse in the garden seems difficult but using pallet wood and a little effort it can be easily done. Join the playhouse with the sliding area by putting a bridge between them.  You can hang the ropes from the windows or you can put a tunnel inside.

Children love tree house as it brings them close to nature. You can make a small house on a tree or you can build a big one beside the tree. Make small window and put curtains on it.  Try to make it on a stand, build stairs put a door and make a mailbox.